7 Mile Trip
(3-5 hrs. average time)
CANOEING PRICE:
(two paying per canoe)
$21 per person
(kids under 14 ride free as a 3rd passenger)
Group Rates:
(one person must pay for all)
$20 per person for 10+ people
$19 per person for 20+ people
---
SOLO KAYAKS: $30 / person
2 PERSON KAYAK: $25 / person
(No group rates on Kayaks)
---
9 Mile Trip
(4-6 hrs. average time)
CANOEING PRICE:
(two paying per canoe)
$23 per person
(kids under 14 ride free as a 3rd passenger)
Group Rates:
(one person must pay for all)
$22 per person for 10+ people
$21 per person for 20+ people
---
WE RUN THE BEST BOATS IN THE INDUSTRY AND ONLY REQUIRE A DEPOSIT FOR GROUPS OF 20 OR MORE PEOPLE.
A 7% sales tax will be added to all prices.
Please call our office daily from 9a.m. - 4p.m.
To make a Reservation: (812) 526-9851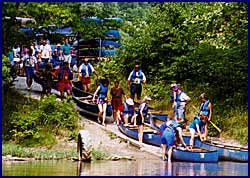 Reservations
Please call 812-526-9851 or email
Reservations are taken and honored
For our 8 a.m. thru 12 noon shuttles
After 12 p.m. it is first-come, first- served
Weekday shuttles 9 a.m. - 1 p.m.
Weekend shuttles 8 a.m. - 2 p.m.
Concessions
We have soft drinks, snacks and ice. All drinks must be in cans or plastic. NO GLASS.
Alcohol Policy
Beer Only. No hard liquor, kegs or party balls.
We strongly discourage the use of alcohol on our premises or on the river.
Home • Trips • Activities • Rentals
Tips • Map • E-Mail Us
Blues Canoe Livery
ph: 812.526.9851
4220 W. 700 N.
Edinburgh, IN 46124