Lock all valuables in your car and leave your keys in our office on our key board.
Wear your life jacket at all times.
Use litter bags and leave nothing behind.
Keep off private property and bridges.
Bring a change of dry clothing.
No guns or weapons are allowed on our premises or in boats.
Wear shoes at all times on the river. Plan to get your feet wet. Old tennis shoes are a good choice.
Insect repellent and sunscreen may prove valuable.
Use protective straps to secure eyeglasses.
Avoid taking non-waterproof cameras, radios or other electronic devices.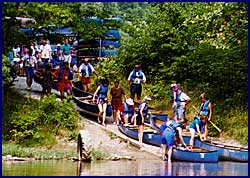 Home • Trips • Activities • Rentals
Tips • Map • E-Mail Us
Blues Canoe Livery
ph: 812.526.9851
4220 W. 700 N.
Edinburgh, IN 46124