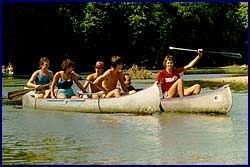 Seven Mile
Beginners should take a short trip of 3 to 5 hours without small children. Under normal water conditions, that would be from the Atterbury boat ramp to the livery. This is also one of our more popular trips for experienced river runners. We shuttle you by bus or van to the boat ramp and your trip ends at the livery.
Nine Mile
This very popular trip begins at Furnas Mill dam and ends at the livery. Once again, we shuttle you from the livery to the input. The first part of the trip flows through a state wildlife preserve, then on through four miles of Camp Atterbury Wilderness Area, ending at the livery. You feel as if you're far from civilization while you're actually less than a mile from state highway 31.
High Water
After extended periods of heavy rain we sometimes experience very high water or flood conditions in which we close the livery. It's a good idea to call us a day ahead to check water conditions.
Business Hours and Shuttle Buses
We are open:

9:00 am weekdays
8:00 am weekends and holidays
Shuttle buses will leave every hour on the hour taking our guests to the input locations. Buses will run:
9:00 am through 1:00 pm on weekdays
8:00 am through 2:00 pm on weekends and holidays
(on very busy days, buses will run as often as needed)
All trips must be completed by:
6:00 pm on weekdays
7:00 pm on weekends and holidays
(the last bus run of the day and trip completion times will adjust to earlier times in the spring and fall due to shorter daylight hours.)
You should plan to arrive on the half hour before your trip leaves to allow time to sign in, change clothes and select equipment.
* Every adult must read and sign a release of liability before starting the trip and parents must sign a release form for minor children.
Home • Trips • Activities • Rentals
Tips • Map • E-Mail Us
Blues Canoe Livery
ph: 812.526.9851
4220 W. 700 N.
Edinburgh, IN 46124